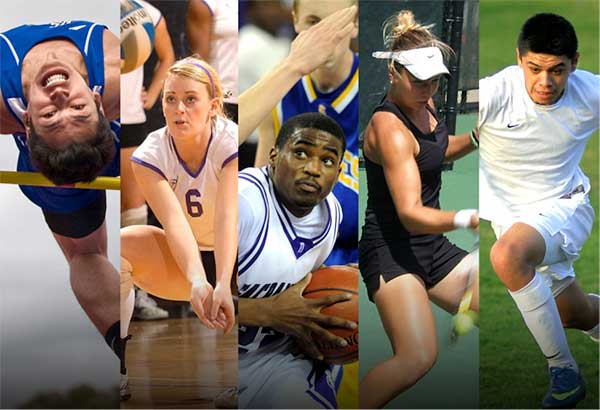 College Exposure Services
Only 5% of HS student-athletes receive multiple scholarship offers. The remaining 95% are "sleepers" - talented student-athletes who are simply under the radar do to a lack of consistent exposure. With PrepStar you don't have to wait to be discovered! PrepStar evaluates your son's or daughter's academic and athletic abilities, GPA, test scores (SAT +/or ACT), highlight video, and preferences, and more - then sets into motion the most comprehensive, proven, and powerful recruitment machine ever developed, including:
Student-Athlete Player Profiles
Expert produced Video Highlights
E-Profile Targeted Marketing Campaigns
Targeted Mail Campaigns
Dedicated Recruiting Experts
Relationship Marketing - More than 30 Years of Personal Relationships Through our proven maximum exposure program and one-to-one relationships, PrepStar has achieved a remarkable 95% success rate in helping qualified college-bound student-athletes get scholarships and financial aid for college.
Your recruiting profile is just a click away!
GET STARTED
Success Stories
Britni McCaskill

We just want to thank you for the exposure you have provided our daughter through CSA. We knew she was an excellent student and a strong athlete but we did not know how to package this and present it to colleges and universities. Your program took that worry away from us. Almost immediately Britni began receiving volumes of letters and phone calls from coaches at colleges and universities across the country. We were amazed and Britni was delighted that she had so many choices. She had college scholarship offers ranging from $4,000-$32,000. We are grateful for your program and would recommend it to any parent and student athlete that is interested in continuing their sport at the collegiate level. Take it from us CSA-PrepStar is well worth the investment!
Steven Rogers

I just wanted you to know how much we appreciate all you did for us this past year. As you know, Steven received a football scholarship to East Carolina University in Conference USA. Although we never met personally, you treated us as if we were friends. The professional service of CSA and yourself was much appreciated by our family. Thank you for letting our family achieve the goal of a Division 1 Scholarship. Let me know if I could be of any help to you.
Read More