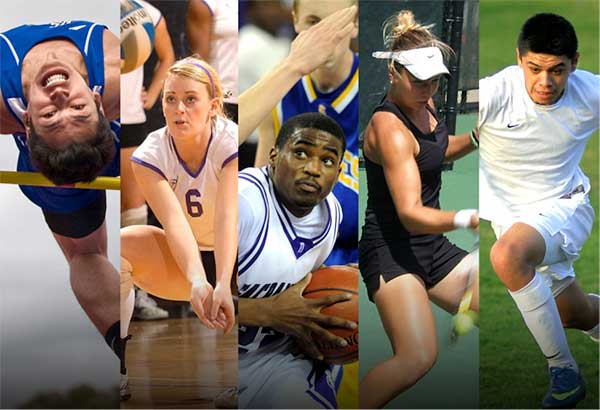 College Exposure Services
Only 5% of HS student-athletes receive multiple scholarship offers. The remaining 95% are "sleepers" - talented student-athletes who are simply under the radar do to a lack of consistent exposure. With PrepStar you don't have to wait to be discovered! PrepStar evaluates your son's or daughter's academic and athletic abilities, GPA, test scores (SAT +/or ACT), highlight video, and preferences, and more - then sets into motion the most comprehensive, proven, and powerful recruitment machine ever developed, including:
Student-Athlete Player Profiles
Expert produced Video Highlights
E-Profile Targeted Marketing Campaigns
Targeted Mail Campaigns
Dedicated Recruiting Experts
Relationship Marketing - More than 30 Years of Personal Relationships Through our proven maximum exposure program and one-to-one relationships, PrepStar has achieved a remarkable 95% success rate in helping qualified college-bound student-athletes get scholarships and financial aid for college.
Your recruiting profile is just a click away!
GET STARTED
Success Stories
Andrea Vangoss

During my high school career, I was a big fish in a small pond. I had the grades and the talent but I didn't receive the exposure I needed for college coaches to notice me. That was when my dad found out about CSA. The service was unbelievable! Not only was I getting the spotlight I needed, but I was getting results as well. Questionnaires were sent to me from different colleges and also I received letters from out of state colleges as well. In the middle of the process I had received more than 40 different letters from schools asking about my background and if I was interested in attending their college. I also had many coaches calling my house to see if I was interested in their program. I decided to enroll at Jackson State University in Jackson Mississippi. Now as a freshman I am proud to say I am attending a Division I University on a scholarship that covers more than 80% of my costs.
Mike Vandenberg

Mike has a full scholarship offer from New Mexico and a 'grey shirt' offer from Boise State, meaning the scholarship starts January 2006. That's 2 D1 scholarship offers. Eastern Washington and Cal Poly SLO have offered partial scholarships (55-65%) they are both D1-AA schools and can split scholarships. Humboldt Stat e has also offered a partial scholarship (25-30%) they are a D2 school. Mike has official trip offers from New Mexico, Boise State, Easter n Washington and Cal Poly. We had a few discussions with San Jose State. They do not have a scholarship for Mike but like him very much. If he 'walked on' this year, he would get a scholarship next year. Thanks for all the help you gave Mike and our family.
Read More