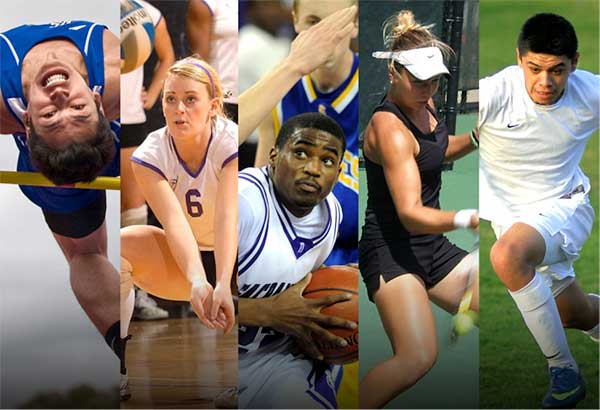 College Exposure Services
Only 5% of HS student-athletes receive multiple scholarship offers. The remaining 95% are "sleepers" - talented student-athletes who are simply under the radar do to a lack of consistent exposure. With PrepStar you don't have to wait to be discovered! PrepStar evaluates your son's or daughter's academic and athletic abilities, GPA, test scores (SAT +/or ACT), highlight video, and preferences, and more - then sets into motion the most comprehensive, proven, and powerful recruitment machine ever developed, including:
Student-Athlete Player Profiles
Expert produced Video Highlights
E-Profile Targeted Marketing Campaigns
Targeted Mail Campaigns
Dedicated Recruiting Experts
Relationship Marketing - More than 30 Years of Personal Relationships Through our proven maximum exposure program and one-to-one relationships, PrepStar has achieved a remarkable 95% success rate in helping qualified college-bound student-athletes get scholarships and financial aid for college.
Your recruiting profile is just a click away!
GET STARTED
Success Stories
Michael McCalib

We obtained the services of CSA-PrepStar back in November because we had not had one single college contact and were getting a little concerned. Now that Michael has made his decision, I can tell you we had around 20-25 schools cont act him and of those, only 2 did NOT get his name from CSA. I really don't know where Michael would be going to school had we not used the recruitment service. We thought th at just playing for the Heat would be enough to get recruited, and he pitched very well in some games where there were scouts. But when we had no contacts by Sept ember, we made a CD of Michael pitching and sent it out to about 30 schools. We still had no contacts by November so we hired CSA. Honestly, my only regret is that we didn't get him in the system sooner. If you feel you need a recruitment service to help I highly recommend CSA.
Melanie DeLeon

Melanie accepted the University of Nevada at Reno's offer for full golf scholarship. The Saugus High athletic director, Mr. Miner is scheduling a signing at the campus. She received full offers from: San Jose State, Fresno State,, UC Riverside and partial scholarships (more than 50%) from Cal State Long Beach, Cal Poly San Luis Obispo, University of San Francisco. CSA-PrepStar really helped with exposing Melanie to the mid-west and eastern schools as well. Thanks for all the help CSA-PrepStar has provided!
Read More