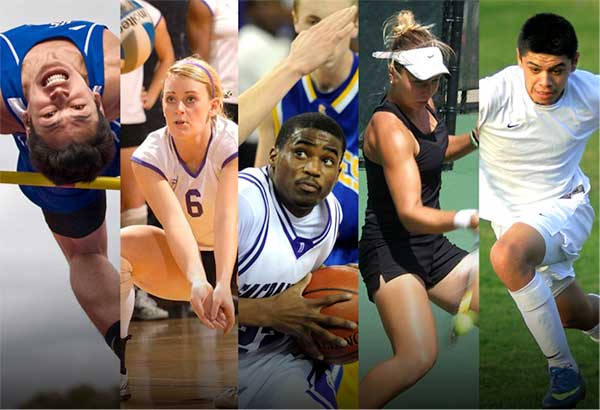 Golf, Swimming, Tennis, Track & Field, Field Hockey, Ice Hockey, Bowling, Wrestling
Collegiate Sports of America - PrepStar has helped over 75,000 student-athletes achieve athletic and academic scholarships in 23 college sports. Since 1982, over $2.5 Billion in scholarships have been awarded to our qualified high school athletes. By leveraging our network of 2,000 colleges and universities, 32,000 college coaches, and more than 30 years of personal relationships, we have a 95% success rate creating college opportunities, athletic scholarships, financial aid packages, preferred walk-ons as well as national and regional exposure for our student-athletes!
PREPSTAR ALUMNI

Your recruiting profile is just a click away!
GET STARTED
Success Stories
T.J. Franco

I cannot stress enough how important it is to make sure college coaches are aware of your talents as a college prospect. Before enrolling with CSA-PrepStar I had heard from only a handful of small local colleges. Within one month after using CSA's service I heard from over 50 colleges from coast to coast and before all was said and done I received letters and phone calls for over 100 colleges. None of this would have happened had I relied on my high school coach to help me get recruited. CSA-PrepStar was the best investment my parents ever made for me. Not only did I receive a great college education from a great university, I was able to play college baseball and get drafted to play professional ball for the Oakland A's.
Nate Ustianowski

Yesterday I received a phone call from the Alpha Academic Program Director at Abilene Christian and they have made recommendation to admissions for Nate to be accepted to ACU... no matter what his SAT score comes in at. It won't have the official until I get the call from the admissions office, but when I do, Nate has made his choice to ACU. Carson-Newman has also been in contact with us and Nate is in the process of being accepted there as they want him too. So, pl ease don't send out any further emails as the letters tend to be a bit overwhelming. Nate must have received contacts from over forty schools. Nate is thrilled!
Read More