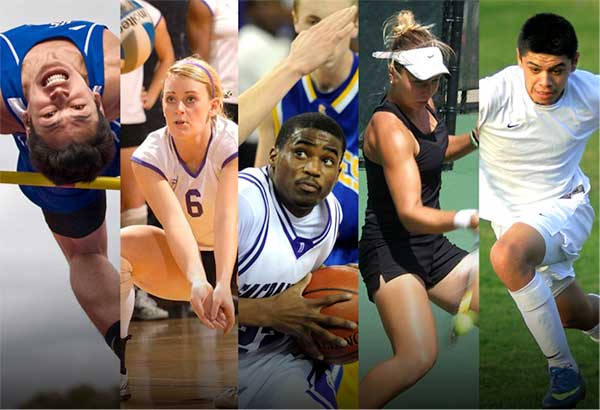 Golf, Swimming, Tennis, Track & Field, Field Hockey, Ice Hockey, Bowling, Wrestling
Collegiate Sports of America - PrepStar has helped over 75,000 student-athletes achieve athletic and academic scholarships in 23 college sports. Since 1982, over $2.5 Billion in scholarships have been awarded to our qualified high school athletes. By leveraging our network of 2,000 colleges and universities, 32,000 college coaches, and more than 30 years of personal relationships, we have a 95% success rate creating college opportunities, athletic scholarships, financial aid packages, preferred walk-ons as well as national and regional exposure for our student-athletes!
PREPSTAR ALUMNI

Your recruiting profile is just a click away!
GET STARTED
Success Stories
Patti Meringer

I can't tell you how thankful we are by signing on with your program. The response back to us from your solicitations is truly overwhelming. I never expected such a response from such a broad range of schools. This has been the best investment we have made in Patti. Currently the list (by division) is:1) St. Peters - Jersey City D-1 Full Ride 2) Drexel - Philadelphia D-1 3/4 scholarship still working balance 3) Fairfield University - Fairfield CT - D1 - 3/4 scholar ship balance in negotiation 4) Sacred Heart - Fairfield CT - D1 - Full ride 5) Pace - Westchester City, NY - D2 Full ride 6) Adelphi - Long Is and D2 3/4 scholarship and balance being worked7) Catholic University - Washington DC - D3 1/2 paid by academic working w/Coach 8) University of Scranton - D3 recently added to list by acceptance awaiting $$ offer 9) William Paterson University - D3 - Full ride (academically) Believe it or not, this is the "short list" Your marketing overwhelmed us with responses and considerations.
Chris Minck

Just thought you would like to get an update on Chris. He is starting for Kenyon College basketball at the point guard position. So far, a very young team is off to a slow start but Chris is averaging about 25 minutes /game, 5.4 pts and has an assist to turnover ratio of 24 a assists /15 t/os , best on the team. In addition, fall baseball went very well and he will be playing baseball at Kenyon as well and ha s a chance to be the starting CF. As you know Kenyon found Chris through CSA , so once again thanks since he is having a great time , getting a super education and still playing ball.
Read More